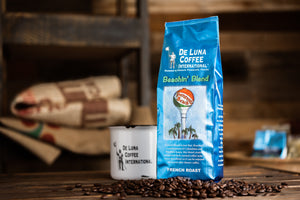 When Colombia and Brazil get in the same room, it looks like the two gangs from "Beat It". Tensions high, collars popped, and the air, thicker than Megan Thee Stallion.
Well if MJ is the King of Pop, we're the King of Coffee. And just like MJ we know how to bring two rivals together.
Turns out, when Colombia and Brazil grind up on each other and you pour hot water over them, it makes a hell of a cup of coffee (who else pictured a Miami nightclub?). 
Notes
Heavy body
Dark chocolate
Smoky finish